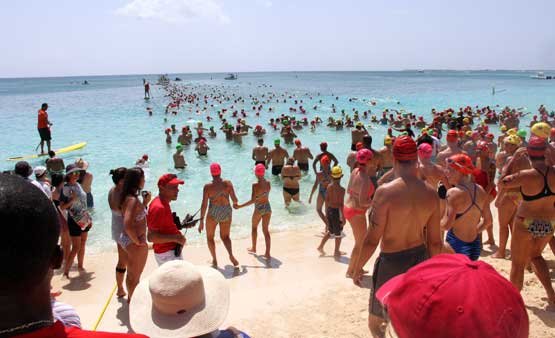 The Walk & Watch option at the Flowers Sea Swim allows non-swimmers to participate in the excitement of this charity event. The Walk & Watch is ideal for family members or anyone who wants to be part of a beautiful and exciting day on the beach.
All registered Walkers are also eligible for random prizes – and unlike the Swimmers, you need not be present to win! 1 in 10 wins! Refreshments and music at the finish for all.
We are hoping to "double the dollars" for our chosen charity this year. Encourage your friends and work colleagues to enter the Walk & Watch for a beautiful view of one of the world's top open water swims.
Date: Saturday, June 19th, 2021
Start: 7 Mile Public Beach – South End
Finish: The Meridian, West Bay Rd – Check to confirm a few days before race day
Check-in: 1:00-1:45pm
Start time: 2:30pm
Entry fee: CI$25 or US$30 (Online). All proceeds will go to a local Cayman charity


Registration options:
Note: all participants who make a minimum donation of CI$25 (or more) will receive a special commemorative t-shirt upon check-in. Offer only available while supplies last.
2021 Prizes:
Coming soon…