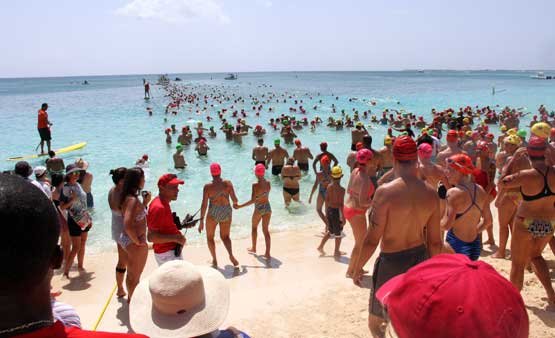 Our Walk & Watch (The Ms. Penny Walk & Watch in memory of the late Mrs. Penny McDowall) option at the Flowers Sea Swim allows non-swimmers to participate in the excitement of this charity event. The Walk & Watch is ideal for family members or anyone who wants to be part of a beautiful and exciting day on the beach.
The first 100 Walkers to check in on race day receive a tee-shirt.
All registered Walkers are also eligible for random prizes – and unlike the Swimmers, you need not be present to win! 1 in 10 wins! Refreshments and music at finish for all.
We are hoping to "double the dollars" for our chosen charity this year. Encourage your friends and work colleagues to enter the Walk & Watch for a beautiful view of one of the world's top open water swims.
Date: Saturday June 13th, 2020
Start: Ritz Carlton Grand Cayman (North Beach)
Finish: Coral Beach [next door to Royal Palms Beach Bar] – Check to confirm a few days before race day
Check in to receive tee-shirt: 1:00-1:45pm
Start time: 2:30pm
Entry fee: CI$20 or US$25 (Online). All proceeds will go a local Cayman charity


Registration options:
2020 Prizes:
Coming soon…